Deck Contractors in Everett, WA
A deck is the perfect way to bridge the gap between indoor living and outdoor enjoyment. If you're envisioning a new deck on your Everett or Snohomish County, WA property, contact the deck builders at Joe Myers Construction Inc. today. We take pride in building beautiful, accommodating decks that enhance the outdoor living experience you want from your property. From simple, practical decks to spacious decks with built-ins and other features, we're ready to discuss your vision for the ideal deck.
Building a deck takes mind for both form and function, and for how it connects your home to the landscape around it. We take every element of a deck project into consideration, to produce exceptional results that increase the curb appeal, outdoor enjoyment and practicality of your property.
Spacious Deck Concepts
A space to lay out and lounge in the sun. Your BBQ station and outdoor dining area. A place to entertain. A deck can be whatever you want it to be, and our deck builders will help you design an outdoor space that's everything you expect it to be. From tiered decks to wraparounds, multi-level decks to one that incorporates with your pool decking or gazebo, our deck contractors design spacious decking concepts that match your home and your expectations.
Deck Features and Built-ins
The great thing about building a deck is the flexbility of the design process. We can help you every step of the way, from choosing materials (natural wood, engineered) to determining the features and built-ins that will define your deck. We can coordinate built-in seating, stair and railing styles, shade and shelter, spa considerations and much more. Your deck is more than just a flat surface outside—it's the gateway to outdoor living. Count on our deck contractors to build it in that vision.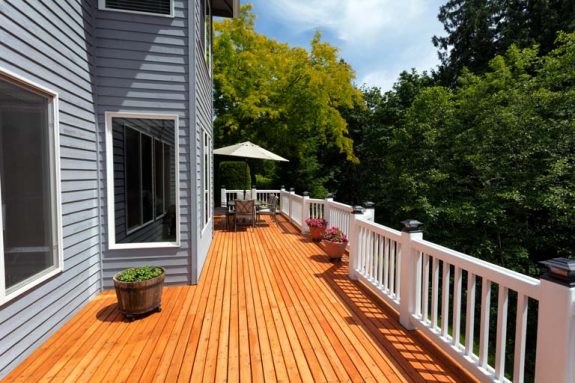 Get Started on Building a Deck
Our deck builders create decks that our clients love and enjoy for decades to come. If you're ready to bridge the gap between indoor living and a love of the outdoors, contact us today at 425-328-7849 to discuss a deck, kitchen, bathroom, or hardscape project for your Everett, WA property.