Kitchen Remodeling in Everett, WA
The kitchen is arguably the most important room in your home, which makes the decision to undertake a kitchen remodel an important one. Turn to Joe Myers Construction Inc. to make sure it comes out right! From updates and improvements to a down-to-the-studs remodel that completely reinvents your kitchen,
we'll help you realize the opportunities this space has to offer.
We see kitchens as the sum of their many important parts. Our design and build teams take great care to discuss kitchen renovations with Everett and Snohomish County, WA step-by-step, to get a complete picture of what they want and how they want it to look. We cover all the following major components as part of kitchen remodeling.
Cabinets
Cabinets are the face of your kitchen and deserve to be a focal point. From natural wood cabinetry to glass doors and even open cabinet concepts, we make storage practical and beautiful in your kitchen remodel.
Countertops
Whether you prefer natural stone like granite or marble, or want something exciting like butcher block in your new kitchen, we introduce you to countertop concepts that set the tone for a kitchen that's welcoming, sophisticated and cohesive.
Flooring
Choose from natural wood, tile, vinyl plank or other materials—whatever aesthetic best fits your kitchen concept. Our expert installers ensure it's laid with care, in a way that ties the entire room together from the moment you step foot into it.
Backsplash
We believe in the finishing touches and know how important they are for setting the mood and realizing the theme of your kitchen. Tell us your backsplash ideas or browse our portfolio for inspiration and give your kitchen a feature that can't be ignored.
Lighting and Appliances
The functionality of your kitchen needs to be top-of-mind during a kitchen renovation. It's why we handle lighting and appliance layouts with forethought to practical spatial design. Expect convenience throughout your kitchen.
---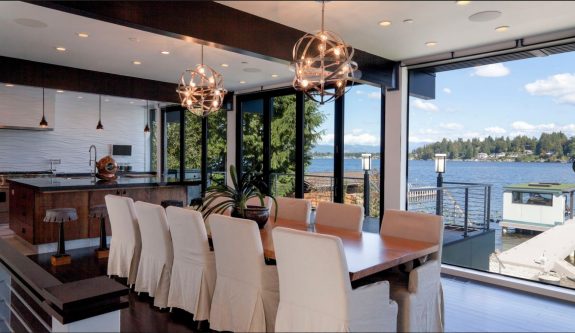 Hire Us Today for Kitchen Renovations
At Joe Myers Construction Inc., we want to make sure every part of the kitchen remodeling process lives up to your expectations. Contact us today at 425-328-7849 to discuss your ideas for your new kitchen and see why Snohomish County, WA homeowners can't stop recommending us for updates and complete bathroom, deck, hardscape, and kitchen renovations.